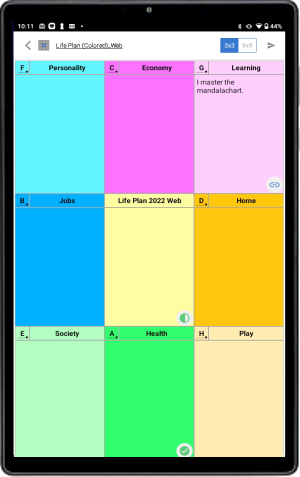 ●Main functions

The Mandalachart Web App is an app that creates and shares mandala charts that operate on the cloud. Since it is a cloud application, there is no need to install it.

Created charts can be shared on smartphones, tablets, and computers with an ID and password. Data can be centrally managed on the cloud, such as editing a chart on a smartphone later on a computer and using that chart in a meeting on a tablet.

In addition, you can share and publish the created chart to a specific person or public places such as SNS in reading mode. Of course, you can stop sharing at any time. The person you share with does not need to register with web App.

Templates can be created and exported for physical distribution. As a result, participants can use the template by importing this file in training etc.


Available on Google Play!

Learn more.